Oktoberstock – An Incredible One Day Festival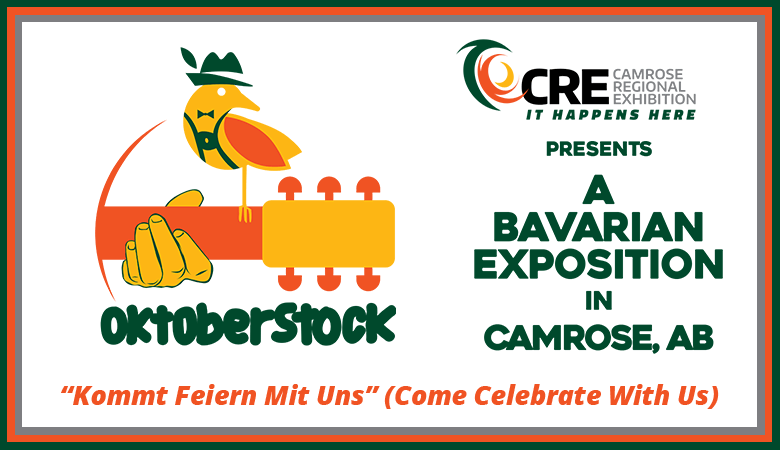 Join the CRE for a Wunderbar Day of Community, Music, Food & Beer.

The Camrose Regional Exhibition (CRE) is pleased to announce the launch of an exciting new one day fall festival called Oktoberstock. A truly unique event, Oktoberstock is a twist on the traditional German Oktoberfest with a full day of activities that promote the diversity of the community of Camrose and the region.
Oktoberstock will feature local musicians, folk and original performers, and food in a format that will be affordable for the entire community. Oktoberstock promises to be a great event the whole family can enjoy.
Oom Pa Pa Ahhhhhhh!
It's looking positive that this will be the first major event where we can meet together in greater numbers. A chance for people in our community to exhale, let their hair down and celebrate with each other. We've designed Oktoberstock to be a one day Festival celebrating community with delicious food, great beverages, live performances, and family friendly activities!
The performance stage will spotlight "anything but country music" featuring local and recognized talent. Music will be family-friendly during the day then switch over to the Brabec Brothers German Oom Pa Pa Band and DJ Mike Thomas spinning party music for the evening crowd.
Food trucks/vendors will be on site to provide a range of food experiences including homemade pretzels and sausage. The bar will feature local beer and cider for you to enjoy with family friendly drinks available. A family experience area will feature children's entertainers and activities great for the little ones!
Dress in your Lederhosen and Dirndl and come out for this fun community event! Stay tuned as performance and activity details are announced!
"Kommt Feiern Mit Uns" (Come Celebrate with us) September 18, 2021
Camp out for the Day (and Night)
Camping is available across the road at the Camrose RV Park. Contact Camrose RV Park with your Oktoberstock ticket number to get a sweet deal on overnight camping!
Phone: (780) 678-2888
reservations@camroservpark.com
Get your Tickets Today.
Available on EventBrite – Get Your Tickets Now!
Main Stage Performance Schedule
11:30 a.m. – Doors Open to grounds
12:00 – 12:15 p.m. – Welcome By Dignitaries
12:15 – 12:45 p.m. – Running Thunder Dancers
1:00 – 1:30 p.m. – Local Artist #2
1:45 – 2:30 p.m. – Kids' Performance #1
2:45 – 3:30 p.m. – Kids' Performance #2 – Bar opens at 3:00 p.m.
3:45 – 4:15 p.m. – Local Artist #3 TBA
4:30 – 5:00 p.m. – Local Artist #4 TBA
5:30 – 6:30 p.m. – Band #1 TBA
6:50 – 7:45 p.m. – Band #2 TBA
8:00 p.m. – 8:15 – Keg Tapping
8:00 – 11:00 p.m. – German Oktoberfest Band – Brabec Brothers
11:30 p.m. – 12:59 a.m. – DJ Mike Thomas
---