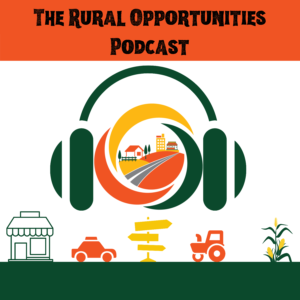 The Rural Opportunities Podcast is where we talk about all things rural!
As an agriculture society we have a long and rich history of rural, community and agriculture involvement. CRE believes in the power of rural communities and that they are vital to the prosperity of our province and beyond. On this podcast we talk about rural opportunities and challenges and have conversations with the movers and shakers of rural. Thank you for joining us!
Don Gregorwich – The Land of Opportunity
Kevin Van Lagen – Prairie Principle
Dianne Finstad – The Two Dianne's
Jake Vermeer – Talk Dairy To Me
Young Agrarians – Regenerative Agriculture
Metis Crossing Alberta
FARMZY – Farm Adventures Made Easy
All Aboard Battle River Train Excursions!
Damien Kurek – MP Battle River Crowfoot
Indigenous Tourism Alberta
Rural Mental Wellness
Municipal Election 2021 – City of Camrose Ep 1 – Don Rosland, Doug Mackay, Geoff Turnquist
Municipal Election 2021 – Camrose County Ep 1 – Carl Bergstrom, Carlene Wettuhn
Municipal Election 2021 – Ep 2 – City of Camrose – Joy-Anne Murphy, Lana Broker
Municipal Election 2021 – Ep 2 – Camrose County – Corey Szott, Cindy Trautman
Municipal Election 2021 – Ep 3 – City of Camrose – Lucas Banack, Ron Baier
Municipal Election 2021 – Ep 3 – Camrose County – Doug Lyseng, Ernie Bertschie
Municipal Election 2021 – Ep 4 – City of Camrose – Julie Girard, Anthony Holler
Municipal Election 2021 – Ep 4 – Camrose County – Don Simpson and John Girvan
Municipal Election 2021 – Ep 5 – City of Camrose – Wyatt Tanton and Larissa Berlin
Municipal Election 2021 – Ep 5 – Camrose County – Jordan Banack, Cassandra Spruyt
Municipal Election 2021 – Ep 6 – City of Camrose – Max Lindstrand and Kevin Hycha
Municipal Election 2021 – Ep 6 – Camrose County -Lynne Jenkinson, Tina Sroka, Karen Forster
Buying Rural Properties with Michael Parker from Remax Elite
Lazuli Farms – First Generation Farming
Rural Municipalities of Alberta (RMA) with Cindy Trautman